If this message is not being displayed correctly, click here.
Will you join us at ISE 2016?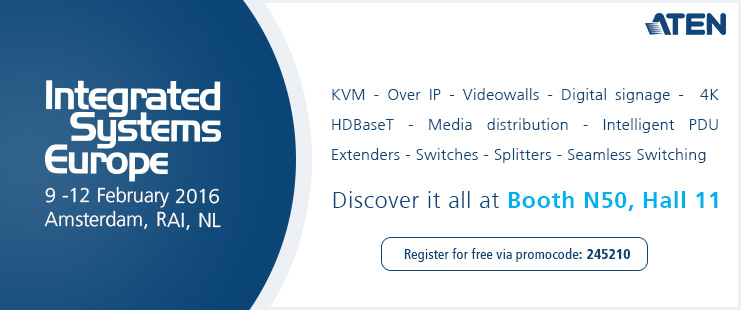 The ATEN team likes to invite you to ISE 2016, the biggest event within the audio-video and IT sector in Europe. Where you can discover our latest digital signage, KVM and energy management solutions in multiple live hands-on setups.
Schedule a meeting or join one of our daily Aten interactive sessions:
11:00: How can Aten help you manage your datacenter and server room? (30min.)
15:00: Which AV hardware solutions to use in broadcasting, retail, surveillance or educational setups? (30min.)
In the meantime you can already discover our A/V, KVM and energy management products briefly online. Also our award winning Seamless Switching Matrix Series is definitely worth a look.
KN8132V / KN8164V -
KVM over IP switch with virtual media and audio
• 32 / 64 KVM ports
• 9 bus (8 remote, 1 local user)
• 64 user accounts, 32 simultaneous access
• 1920 x 1200 @60Hz
• Panel Array Mode
• Military security standard: FIPS 140-2 level 1
• Dual network and dual power supply

Learn more MSRP: € 9.555,4 / € 13.170,1
VM3404H / VM3909H (with VE805R) -
4K HDBaseT matrix switches with videowall function



Note: Use VM3404H and VM3909H as a matrix switch or combine with ATEN's VE805R HDBaseT Lite extender to enable the videowall, scaler and Seamless Switching functions.

Learn more MSRP: € 2.302,1 / € 4.617,1
VE849T / VE849R -
Multicast wireless HDMI extender / switch
• Connect 2 inputs to 5 outputs (1 local + 4 remote)
• Up to Full HD (3D), 5.1 channel Dolby audio
• Multicast: 1 transmitter streams to 4 receivers simultaneously
• Low latency < 1ms with WHDI™ Pro Technology




Learn more MSRP: € 360,3 / € 360,3
VK2100, VK6000 & App -
Control system
Learn more MSRP: € 1.789,9

• Various interfaces:
- 6 x Serial ports - 4 x IR / Serial ports
- 4 x Relay channels - 4 x I/O Channels
- 1 x Ethernet port
• 1 x USB port to upload profiles easily
• 3-step setup: Connect / Configure / Control
• Compatible with 10,000+ hardware devices
• Advanced customizable GUI design
• 4 x DC 12V outputs (24W)
KE6900 / KE6940 -
DVI KVM over IP extenders
• Point-to-point, multipoint-to-multipoint and point-to-multipoint extension (LAN)
• DVI-I, USB, serial and audio connections
• Up to 1920 x 1200 @60Hz, single or dual view
• Virtual media
• Centralized management with CCKM Matrix Manager software

Learn more MSRP: € 1.753,0 / € 2.118,4
CS782DP -
4K DisplayPort KVM switch
Learn more MSRP: € 174,6

• Control 2 USB computers
• Up to 4K @60Hz, 2.1 channel audio
• HDCP and DisplayPort 1.2 Compliant
• Bus-powered
• Video cables included
Visit our website in:

ENGLISH | DEUTSCH | FRANCAIS | ESPAÑOL | ITALIANO | PORTUGUÊS